Professional Engineer Stamped Drawings with Seismic Calculations & Bracing
Earthquake Zones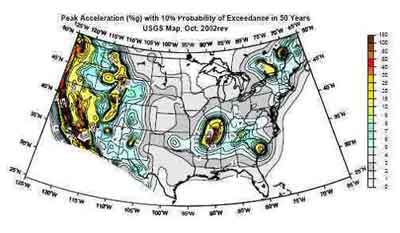 US Geological Survey, 1997
http://earthquake.usgs.gov/eqcenter/
Universal Shielding Corp. can build your new shielded enclosure to meet any of the earthquake code requirements.
Building code maps using numbered zones, 0, 1, 2, 3, 4, are practically obsolete. 1969 was the last year such a map was put out by this staff.
The 1997 Uniform Building Code (UBC) (published in California) is the only building code that still uses such zones.
Generally, over the past two decades, building codes have replaced maps having numbered zones with maps showing contours of design ground motion. These maps in turn have been derived from probabilistic ground motion maps. Probabilistic ground motion maps have been included in the seismic provisions of the most recent U.S. model building codes, such as the new "International Building code," and in national standards such as "Minimum Design Loads for Buildings and Other Structures," prepared by the American Society of Structural Engineers.