Laser-Powered 3D E-Field Probe
LSPROBE 2.0
9 KHz to 18 GHz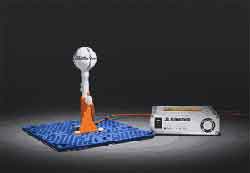 The LSProbe 2.0 Field Probe is a next-generation, high speed, high accuracy and high dynamic range electric-field probe. Its frequency range is 9 kHz to 18GHz.

The Field Probe's six-monopole antenna design ensures isotropic operation at all frequencies.

LSProbe 2.0 employs fine-grained compensation of linearity, frequency and temperature, guaranteeing accurate measurements from less than 1V/m to at least 1 kV/m.

A dynamic range of 60 dB is achieved for all frequencies.
Selected International Standards

ISO
11451-2, WD 11451-5, 11452-2, 11452-11
IEC
61000-4-3, 61000-4-21
EN
300 328, 301 893
Other
RTCA/DO-160