DAMS Software
Advanced Features
Spherical Plots & Iso-Spheres
Version 4 now offers spherical plots with iso-spheres and you can project the response on to a sphere of radius equal to the platform separation and grid equal to the measurement
Comes Standard
with the ALL DAMs Systems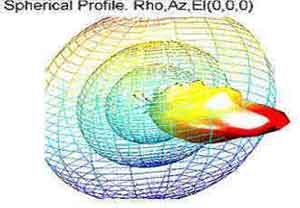 Each sphere represents an Isotropic gain in dBi. The antenna plot is derived from S21
If you look down at the main lobe and use the rendered Iso-Sphere you can easily visualize the associated beam widths by specifying the Iso-Sphere grid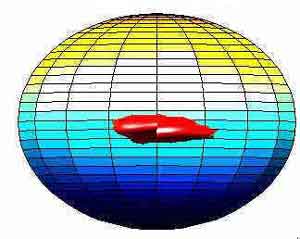 A play mode is also available to play the profile through the frequency range. This yields some amazing movies.
The DAMS 6000 is required for this software.
Version 4.5
Is Available Now!
This software contains upgraded AZ/EL 3D plots along with some minor updates.
Please contact us to access this download.
DAMs Software
Comes Standard
with the ALL DAMs Systems
Designed for quick learning and maximum productivity the D.A.M.S. Software has been designed with many time saving features including instant help which provides on the spot help for any function.

An all-on-one Page contains everything you need to completely measure an antenna including A Polar Plot, Resetting Amplitude Plot, and a Non-Resetting history plot.

Use the export function to put all of your data into a file to be used with Math-CAD or imported into Excel.

Please See our Advanced Processing Add-on for advanced features such as Group Delay functions and 3D plots with multiple data registers.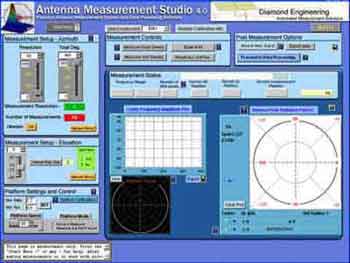 Measurement Features
Real-Time measurement display of current gain @ position.

Ideal Antenna Overlay for antenna comparison.

Completely De-Embedded Measurements (full calibration- no outside interference) Of Antenna Data Only.

Data Export with Variable Format option

Measure up to 2800 points per frequency in one 360 degree sweep.

Variable speed.

Move to Max Position.

Vertical/Horizontal Combination Sweep Measurements.

CW/CCW Antenna rotation.
Visualization Features
All Plots operate in Real-Time

Printable Plots

Resetting Amplitude Plot

Non-resetting History Plot

Polar Radiation Plot

Instant support system

Color Coded measurement controls

3D plots (only available with Advanced Processing Add-on)

Real-Time Measurement Status
DAMs Software Advanced Features
This Also Comes Standard
with the ALL DAMs Systems

Our Advanced processing software enables you to take antenna measurements to the next level. Using state of the art data mapping routines our software can take an array of measurements and turn them into a 3D plot mapping the response of Multiple frequencies over rotation.

Along with 3D plotting, the Advanced processing Software has A Group Delay section, Stem Cell Plots area and Real-Time Amplitude over Frequency function.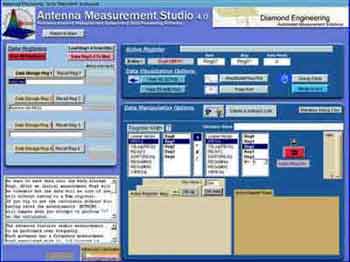 The Advanced Processing page contains all of the necessary elements to fully profile a specific antenna. The four data Registers are used to store multiple antenna profiles for comparison
Advanced Processing Features

3D Plotting Features
Fully Rotational 3D plots
High quality prints
Completely Exportable
500,000 measurement capacity
Plots Amplitude Vs. Frequency Vs. Rotation


Dynamic Stem Vector Features
3D Stem Cell Plots
Different plot for each frequency
Plot from multiple data sets
Amplitude Mapping
Fully Printable



Group delay Features

Group Delay Measured in Nano Sec, Feet, and Inches
View path propagation over frequency
Printable graphs
Calculate distance between 2 antennas



Dynamic Plotting

Fully Dynamic plotting with Real-Time changes
Amplitude Vs. Frequency Chart
Printable graphs
Locate most useful area of antenna for specific frequency range
up to 200 measurements over 500Mhz range