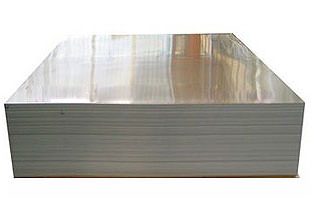 Semi Rigid Aluminum Foil Panels for Shielding
We recommend Xalon FP panels be cut or shaped with electric or pneumatic metal nibbler
Must be Shipped Palletized by Truck
Ideal for covering sealed concrete floors
Final flooring can be glued directly on top of the Xalon FP
Xalon FP Panels are applied like lightweight paneling, covering all surfaces: walls and ceiling. Other than normal cleanliness, and dust free, no special preparation is required.
The panels are not self supporting.
The foil panels may be screwed (self drilling screw recommended) (wall systems) or glued in-place (floor systems).
For maximum effectiveness, seams should be taped with 5 mil Aluminum or 5 mil Copper (For Better SE) electrically conductive adhesive foil tape.

For floor installations we recommend butt jointing the panels and taping the seams with 4" wide electrically conductive foil tape.

For wall installations the Xalon FP panels can be butt jointed or overlapped, screwed and seam taped.
Xalon FP Floor Panels
20 mil Aluminum Foil Panels
Semi Rigid Foil Sheets for EMI / RFI shielding

Aluminum .020" x 48.00" x 96.00"
Ideal for covering the floor
1 sheet weighs approx 9.5lbs
0.020" (0.508 mm) (20 mil) Thick
Standard Panel Size
48" x 96" (32 ft²)
Ideal for large coverage areas,
Cuts you labor cost by 30%
Installation Methods

4" Electrically Conductive Aluminum Tape ST-5-4x180-1s
4" Electrically Conductive Copper Tape ST-5-4x75-1s-cu (Recommended)

Xalon FP Typical Shielding Effectiveness




(Insertion Loss per IEEE-299 : 2006)

Installation

As Installed Butt Jointed
& Taped with 4" EC Tape

As Installed
1" Overlap, Screwed &
Taped with 4" EC Tape

Install Locations

Floor, Wall, Ceiling

Floor, Wall, Ceiling

Walls, Ceiling

Electrically Conductive Seaming Tape

1 Layer 5 mil Copper

1 Layer 5 mil Aluminum

1 Layer 5 mil Aluminum

FREQUENCY

SE (dB)

SE (dB)

SE (dB)

10 KHz, Magnetic Field

45

45

45

100 KHz, Magnetic Field

65

65

65

200 KHz, Magnetic Field

65

65

65

10 KHz, Electric Field

≥95

≥90

≥100

100 KHz, Electrical Field

≥95

≥90

≥100

200 KHz, Electrical Field

≥95

≥90

≥100

1 MHz, Electrical Field

≥95

≥90

≥100

10 MHz, Electrical Field

≥100

≥95

≥100

400 MHz, Plane Wave

≥100

≥95

≥100

1 GHz Plane Wave

≥92

≥90

≥100

10 GHz Plane Wave

≥90

≥85

≥100

18 GHz Plane Wave

≥88

≥85

≥100

40 GHz Plane Wave

≥75

≥75

≥100