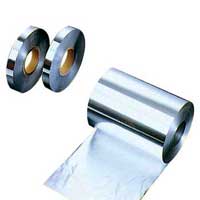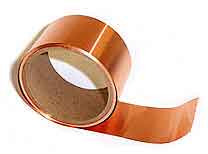 Xalon ST Tape
is applied like any tape with a release. The tape is used to RF seal the seams of foil panels.
The 4" wide, electrically conductive PSA is ideal for sealing the panel seams and sealing the panels to door and window frames.
The 6" wide, electrically conductive PSA is used to frame out all the corners and intersections between walls, ceiling and floor, before the foil panels are applied. Also for inside corners.
The 3" wide electrically conductive tape is used to electrically bond all foil panel cuts.
Now Available: 1", 2", 3", 4" and 6" wide, 2 mil or 5 mil, aluminum or copper, with electrically conductive pressure sensitive adhesive (ECPSA) on both sides.
Xalon ST5 Aluminum Foil
Seaming Tape
Electrically Conductive PSA
P/N: ST5-2x180-1s 2" x 180' (30 ft²)
P/N: ST5-3x180-1s 3" x 180' (45 ft²)
P/N: ST5-4x180-1s 4" x 180' (60 ft²)
P/N: ST5-6x180-1s 6" x 180' (90 ft²)
Electrically Conductive PSA (one Side)
Non-Conductive PSA (opposite side)
P/N: ST-5-6x180-2s 6" x 180' (90 ft²)

Xalon ST2 (2 mil) Aluminum Foil
Seaming Tape
Electrically Conductive PSA (one Side)
Non-Conductive PSA (opposite side)
P/N: ST2-6x180-2s 6" x 180' (90 ft²)

Xalon ST5CU (5 mil) Copper Foil
Seaming Tape
Electrically Conductive PSA
P/N: ST5CU-4x75-1s 4" x 75' (25 ft²)