Select-A-Shield™
SFP1215W
RF/EMI USB Forensic Pouches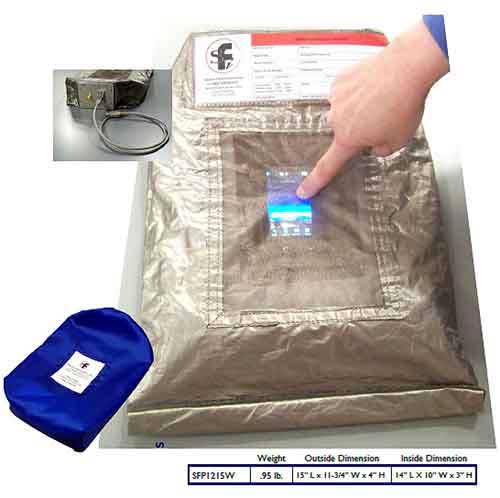 Better than –75 dB, 99.95% RF Isolation from 500MHz to 6.0GHz.



Secure on-site mobile device data extraction is now a reality with Select Fabricators' SFP1215W Shielded Forensic Pouch
The SFP1215W allows for hands-on manipulation of wireless devices in an RF tight environment making sure internal data is not compromised from moment of capture.
Complete Kit comes with Operating Instructions and Carry Bag
More affordable than lab based non-portable metal enclosures.
Works with any portable wireless device including Smart Phones with SFi's capacitive sensing technology.
Connects to any forensic diagnostic software / computer. ectrical Capabilities are 5 VDC, 0.500mA
Covered SMA Female-to-Female panel-mount bulkhead; used for RF testing during manufacturing.
Works with any portable electronic device including smart phones with capacitive sensing touch screens like the iPhone.