SFP1218
RF/EMI USB Forensic Pouches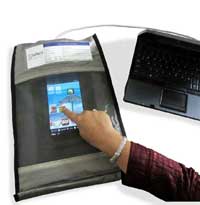 Weight: 0.60 lb.
Outside Dimension: 17.5" L x 11.75" W x 2" H
Inside Dimension: 15" L x 10.5" W x 2" H

BENEFITS
USB 2.0 filtered connector provides fast and secure evidence collection
Oversized window touch screen does not require a stylist
Imediate and easy on-site device manipulation
Lightweight for easy device containment and transportation
Fewer internal components than competitive brands.
All components are in the field replaceable.
Works with any portable wireless device including Smartphones, Tables, and GPS units.
ATTAIN FAST & SECURE ON-SITE
EVIDENCE COLLECTION
On-site mobile device data extraction is a reality with Select Fabricators Shielded USB Forensic Pouch.
More affordable than lab-based non-portable metal enclosures, the USB Pouch allows for hands-on manipulation of wireless devices in an RF tight environment making sure internal data is not compromised from moment of capture. There is no need to take the captured device back to the laboratory to extract the internal memory.
The filtered connection also can charge the device without a need to remove it from the secure evidence pouch.
CONSTRUCTION
Flame retardant/resistant liner
ESD liner to provide static control
Exterior covers
RF Shielded Windows
Clear plastic pocket
Hanging loop
Custom I/O filter plates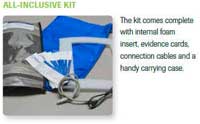 SFP1218K