STE3000FAV2
Base Model Price $3,795.00
Microwave & RF Shielded Enclosure
Designed for Forensics Testing
Exterior: 12.8"H x 18.0"W x 12.0"D
Interior: 8.0"H x 16.8"W x 10.5"D
Weight: 27lbs. / 12.25kg.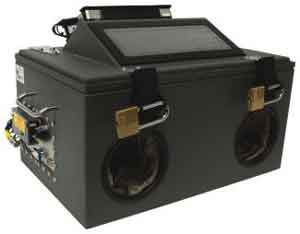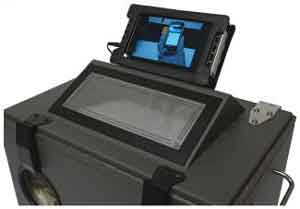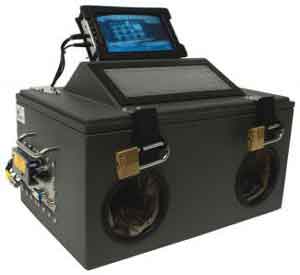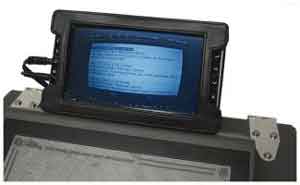 Features
Designed to record audio/video and time-stamp all forensics interrogations in your lab
Patented design
RF tight hands-on access to your device
RF tight illuminated viewing of your device
Built-in high-res OSD color video camera with audio
Built-in 500GB law enforcement DVR
1/2" GEN-2 high efficiency RF foam liner
GEN-2 high efficiency RF gaskets
Exclusive double lip RF seal
Universal removable I/O panel
To stay one step ahead of technology, we've added law enforcement quality video and audio recording to the forensics RF Test Enclosure, creating the extremely popular STE3000FAV2! Just like its sister, once the device is inside the STE3000FAV2, you can view it through the LED illuminated RF tight window. You then have hands-on access to the device through our silver mesh RF tight gloves. Whether you need to open a device, swipe it, turn it on, touch screen icons, change pages… whatever you need to do, you can do, just as though the phone was in your own hands. After all, it is! This also allows you to connect power, chargers, and USB data communications to the device for connection to your interrogation hardware and software... all while the device is maintaining isolation from the carrier's network regardless of the carrier or the frequency bands in use by them. The device is also fully isolated from WiFi signal sources, including both 2.4 GHz and 5.0 GHz and therefore covering any combination of 802.11a/b/g/n/ac protocols. Just like our other forensics RF Test Enclosures, once secured from outside signals, the device is protected from remote kill commands, remote lock commands, remote self-destruct commands, as well as being protected from GPS and location tracking. None of this has changed. Except now there is a time-stamped recording of the whole procedure!

A high resolution color camera captures all activity inside the RF Test Enclosure, with a resolution designed to even view the smallest font text message on the device's screen! Coupled with video, ambient audio from the device, as well as any narration by the examiner is also recorded. And of course, the entire recording is time stamped to help document procedures and chain of custody.

The internal video is RF filtered back out of the chamber and interfaced with a professional law enforcement high resolution touch screen DVR. The image from the internal camera, as seen on the large 5" DVR touch screen, is recorded, with an integral time-stamp for future evidentiary use. And don't be afraid of running "out of space", the capacity of the DVR is 500GB! Once recorded, or at any time, content from the internal DVR HDD can be transferred to a SD card for distribution within the agency or court.

The DVR also features a HD HDMI output to connect an external large screen monitor to assist in real-time viewing of the device interrogation as well as recorded playback. All controls are via the built-in touch screen display or IR remote control. Whether the interrogator wishes to share his work with his lab mates on a desktop monitor, or is making a large screen presentation at a seminar or in court, the video/audio output of the STE3000FAV2 DVR is compatible. Output resolutions include 320x240, 720x480, 1024x768, 1280x960, and 1920x1080.

Once the device is transferred from the field to the STE3000FAV2, it can be charged with a standard 110VAC device charger using the built in RF filtered AC power strip. This can be particularly useful to maintain device power to eliminate the threat of a power-down lockout or self-destruct script being executed. As mentioned above, with hands-on access and real-time viewing, you can easily plug the device into an RF filtered USB interface to access it with your interrogation software. The STE3000FAV2 comes standard with our STEUSB2071 USB2.0 High Speed Interface, giving you full speed access to the device while maintain full RF isolation from the outside world.

The RF filtered AC power interface as well as the USB2.0 interface are located on the spacious universal removable I/O panel. This leaves plenty of room for a host of other I/O options that you may need to suit your specific test applications. From international power options to virtually every data and RF interconnect, we have the option available that you require.

The STE3000FAV2 is designed around the same heavy duty, rugged .090" and .125" aluminum used throughout all of our enclosures. New for 2014 it also features our custom engineered GEN-2 RF gaskets. With over a year in the R&D lab, these new gaskets provide a previously unheard of and flawless RF seal while being immune to the fixed compression set of typical stainless gaskets. Likewise, also new for 2014 the STE3000FAV2 also features our ¾" GEN-2 RF absorbent and reflective foam lining. This foam was designed from the ground up, to our demanding specifications to provide maximum performance over all operating frequencies and bands.
Tamper-proof hardware and dual padlockable latches prohibit unauthorized access and maintains the chain of custody for the devices collected.

Today they say video is evidence and there can be no question. If you can provide time stamped documentation of every action you take with a suspect device… there can be no question. Whether your application is routine forensics interrogations, training your investigators, or hosting a forensics seminar, the STE3000FAV2 is your forensics RF Test Enclosure solution.