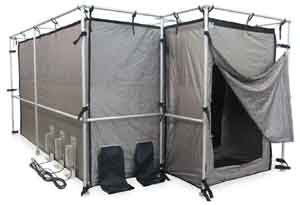 Series 500 Frame and New Magnetic Seal Rollup Vestibule Door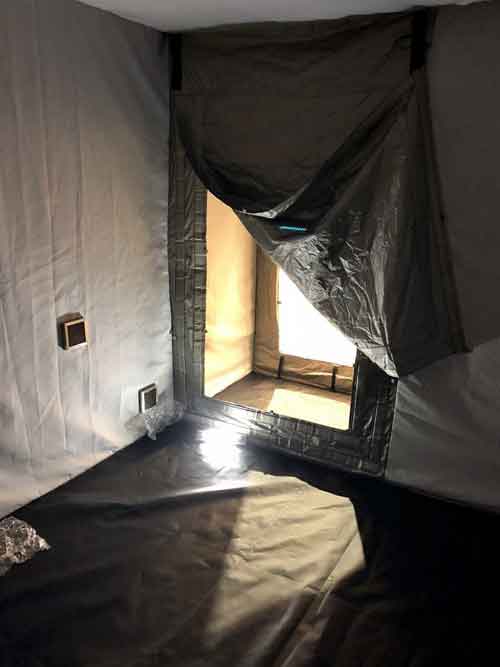 SELECT's Industry Leading High Attenuation RF Signal Security Tents are designed for secure communications applications where maximum signal attenuation is required.
Easy to set up and dismantle
EZ-Up (Series 100) Frame
or
Round HD (Series 500) Easy Assemble Frame
Certified > 85 dB
Shielding Attenuation
From400 MHz to 18 GHz

Made in the USA of US materials.
Standard Select-A-Shield High Attenuation Portable Tent Enclosures include:
• Multiple layers of Nova Select™ conductive fabric
• White ESD fabric layer inside tent
• Vestibule entryway system
• SELECT's exclusive patent pending door system
• Series 500 aluminum frame
• High performance power & data filtering
• Complete shielded ventilation system
• RF shielded floor between two layers of heavy duty tarp
• Tent storage and transit bag
• Complete installation instructions
STANDARD OPTIONS:
• Motion-detection interior EMI hardened lighting inside vestibule
• LED and EMI hardened lighting
• Cable Sleeves
• Power and data filters configured to customer requirements
• Air-conditioning
• Shielding effectiveness certification by independent test lab
• Components can be configured to fit in secure hardshell transit cases
• Alternative frame styles
• Alternative tent layout configurations to meet customer defined C4ISR specifications
Vestibule for Convenient and Secure Entry and Exit
Contain signal leakage with vestibule entryways designed as either an interior part of the tent's footprint or as an exterior extension from the main tent. Placement of a vestibule is typically in the front right hand corner, but is easily configured to customer requirements. Select-A-Shield High Attenuation RF EMI Tents with vestibule are portable, collapsible and durable.
Vestibule can protrude out from the tent or be incorporated inside the perimeter
EMI Shielded Tent Standard Features:
• Multiple layers of Nova Select™ conductive fabric
• White ESD fabric layer inside tent
• Vestibule entryway system
• SELECT's exclusive patent pending door system
• Series 500 aluminum frame
• High performance power & data filtering
• Complete shielded ventilation system
• RF shielded floor between two layers of heavy duty tarp
• Tent storage and transit bag
• Complete installation instructions
Series 100 Frame
EMI Shielded Tent Options:
• Motion-detection interior EMI hardened lighting inside vestibule
• LED and EMI hardened lighting
• Cable Sleeves
• Power and data filters configured to customer requirements
• Air-conditioning
• Shielding effectiveness certification by independent test lab
• Components can be configured to fit in secure hardshell transit cases
• Alternative frame styles
• Alternative tent layout configurations to meet customer defined C4ISR specifications