RF Shielded Cabinets
You Specify the Size
100 dB Attenuation from 14 KHz to 40 GHz
Welded Steel - Zinc Plated

Cabinets are portable and can be placed on desks or work tables.
If large cabinets are desired, moveable platforms can be provided.
Welded 1/8" Electro Zinc Plated Steel.
Cabinets are fully coated with Zinc
RF Shielded View Windows Available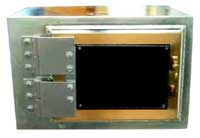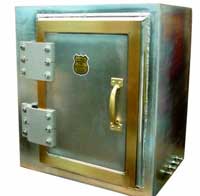 USC manufactures an entire series of prefabricated cabinets developed from the USC-26 and USC-44 designs. These cabinets are offered with the RCM-154 or RCM-254 door design, thus providing the unit with extraordinary shielding attenuation. The cabinets can be customized to any size requirements, and can be placed on desks or workbenches. Welded cabinets are also available. If large mobile cabinets are required, movable platforms can be provided.
Each cabinet can be installed with RF accessories including:
RF Waveguide Air Vents
Ceiling Mounted Exhaust Fans
RF Removable Connector Panels
RF Hi-Hats
RF Waveguide Feedthrus
RF Telescoping Sprinkler Heads
Lighting
Workbenches
RF Power, Ethernet, USB, Signal, Telephone, and Data Filters
Each cabinet is assembled in our facility and tested according to the customers requirements prior to shipping.
Joinable RF Shielded Enclosures
Welded Steel - Zinc Plated
Up to 4' W x 4' D x 4' L per Cabinet
Two Cabinets 4' W x 4' D x 8' L
Three Cabinets 4' W x 4' D x 12' L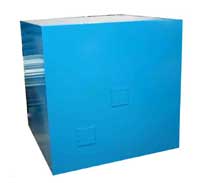 Optional Powder Coating Available (As Shown)
New Push On/Off Shielded Doors