BF Series
Wide Bandwidth
Rugged Construction

1.12 to 18 GHz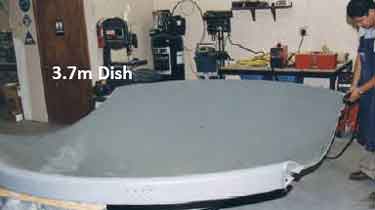 Right Hand Circular
Left Hand Circular
Polarization
Vertical Horizontal
Polarization
From a Single Feed
At TMC Design our dish antennas are custom designed and fabricated to meet customer specifications. TMC Design manufactures several types of dish feeds (see Antenna Box Feeds Below) that are available for custom dish orders. Owing to our many years of experience in this area and available dish feeds TMC Design can often complete a dish antenna within a fraction of the time and cost of our competition.

In addition to our dish fabrication, design and alignment capabilities, TMC Design can also provide test and validation services or can suggest alternate test facilities, for our customers that prefer independent test and validation of performance.

Our dish antennas are currently in use by several U.S. Government agencies for communications systems, EW systems (both airborne and ground based) and for a wide variety of test applications.
Installation and focusing are also available
Ideal to antenna range calibration
&
Bore Sighting
(Very Directional with Dish)
24", 48" 10', 3m & 5.5m