C-RAM SFC
HIGH PERFORMANCE BROADBAND RF ABSORBER
PYRAMIDAL
120 MHz - 50 GHz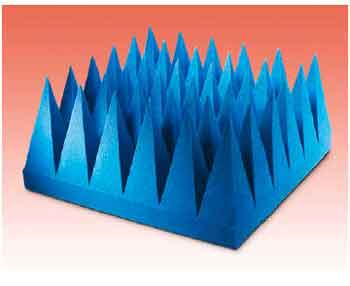 Optional Clean Room Coating (CRC) Meets Class 100,000 (ISO 8)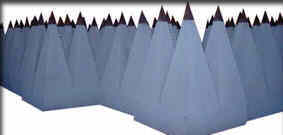 Black Tip Option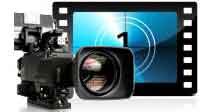 C-RAM SFC is a series of high performance broadband RF absorbers made from specially treated low density polyurethane foam.
The product is flexible and tolerant of physical abuse.
Using a steep pyramid design which provides an impedance gradient, C-RAM SFC provides premium performance in anechoic chambers at both normal and off-normal incidence angles.
These products meet all of the fire retardancy requirements of NRL Specification 8093 tests 1, 2, and 3, MS-8-21 tests 1, 2, and 3, and T.I. drawing 2693066, as well as ASTM E-84-97a, Class A
Typically, C-RAM SFC absorbers can handle up to 1.0 W/in² (2 kW/m²) of RF energy in a temperature controlled room, but this is dependent upon frequency and application.
C-RAM SFC-ODP
HIGH PERFORMANCE BROADBAND RF ABSORBER FOR OUTDOOR USE
PYRAMIDAL (Outdoor)
120 MHz - 50 GHz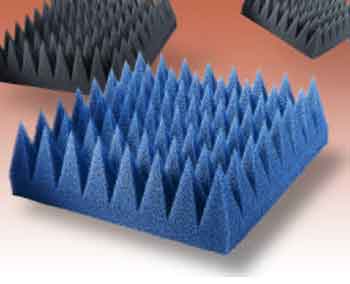 C-RAM ODP is a series of very high performance absorbers similar to C-RAM EVA.

C-RAM ODP is made from a lightweight open cell foam with large pores. This large pore size allows rain water to drain readily and dry quickly after rain stops. The RF lossy coating is not affected by repeated exposure to rain.

C-RAM ODP is dimensionally equivalent to the corresponding grades of C-RAM SFC. The reflectivity characteristics are identical to those of C-RAM SFC.

C-RAM ODP is a very resilient material. It stands up well to moderate physical abuse and tolerates repeated deformations without tear or cracks.

C-RAM ODP is processed using a fire retardant saturant, however it does not meet the NRL 8093 test #1, 2 and 3 for fire retardancy.

Consequently the product is not recommended for indoor usage.
C-RAM SFC-WW is a series of high performance broadband RF absorbers, fabricated from standard C-RAM SFC pyramidal absorber.
The SFC absorber is fit with a low density polystyrene foam matching section to square the piece off, and the sides and top of the block are fit with a half inch (13mm) thick sheeting of fire retardant polyvinyl chloride (PVC) rigid foam.
Walkway absorber provides an effective access path for servicing the transmit and receive areas of an anechoic chamber.