Each Universal cabinet is assembled in our facility
and tested according to the customers requirements
Prior to shipping
Shipped Fully Assembled
Full Turnkey Solutions
Full Line of Options
Transportation Limits (Maximum Size)
(Length to 10.5', Width to 8.0', Height to 8.5')
Minimum Size: 24"L x 24"W x 24" H
For Smaller Sizes (Click Here)
The USC-26 shielding system is designed to meet or exceed the vast majority of shielding requirements. This system is available in both standard modular enclosures and custom designed modular enclosures to meet exact specifications in government, industry, research and development, university, medical or hospital use. The basic design incorporates production techniques which require no gasketing materials of any kind. Weld nuts on the corner and intermediate framing members eliminate screws that penetrate the outer framing members; thus there can be no RF leakage as a result of a loose screw. In addition, this exclusive weld-nut feature provides a structure that is tamper-proof from the outside...an important security consideration.
USC cabinets can be designed to accommodate custom I/Os, computer racks, HVAC air vents, LED lighting, locking swivel casters, microwave absorber and/or ferrite tile.
---
Add FRP (Fiberglass Reinforced Plastic) Panels
Available in Smooth or Embossed for Inside or Outside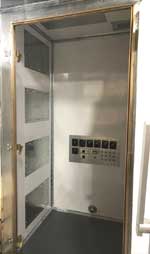 RF Shielded Cabinet Lined with Smooth White FRP
Our Fiberglass Reinforced Plastic (FRP) is a strong composite material that repels dirt and stains making it an ideal surface for high-use commercial settings and service areas that depend on sanitary conditions. Comprised of an impact-resistant material commonly used in the aerospace, automotive, marine, and construction industries, our FRP surfaces protect against rot, stain, mold and mildew, and will not dent or splinter even under the most strenuous conditions. If you need a wall or ceiling panel that is easy to clean and can withstand heavy use, this is the panel system for you.
Colors Available (Shown in Embossed)
| | | |
| --- | --- | --- |
| Bright White | White | Almond |
| | | |
| Ivory | Beige | Taupe |
| | | |
| Silver | Gray | Dark Gray |
| | | |
| Sage | Sky | Black |