RF Shielded Test Cabinets
You Specify the Size
100 dB Attenuation from 14 KHz to 10 GHz
100 dB up to 40 GHz Available
Series 26 Modular Construction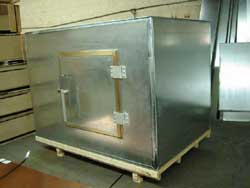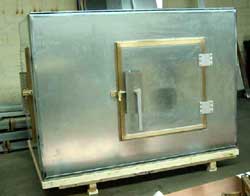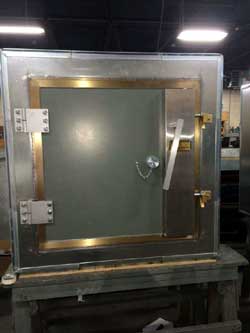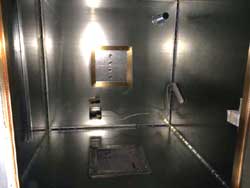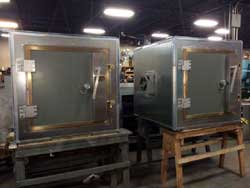 Laminated wood core panels with galvanized steel on both surfaces.
The series will provide 100db min. to 120db max. of attenuation from 14 KHz to 10 GHz when subject to electric fields and plane waves.
100 dB attenuation from 10 KHz to 40 GHz Available
Series 26 panels are interconnected with a framing system to form the enclosure.
Enclosures are completely assembled at the factory.
Can be dismantled, transported, re-erected, and still maintain their attenuation capabilities.
Parts are all numbered to enable customer to install chamber rapidly. (If shipped dismantled)
Factory Assembled and Certified
100 dB Attenuation from 10 KHz to 40 GHz
Series 26 Modular Construction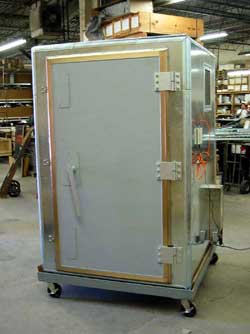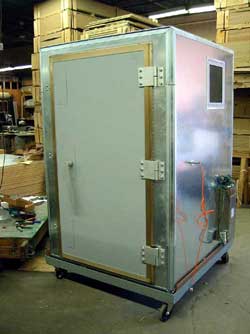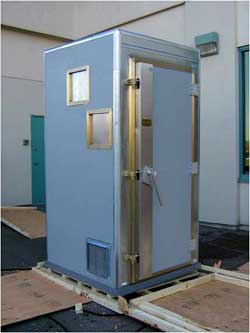 Shown with Optional Dolly and Locking Swivel Casters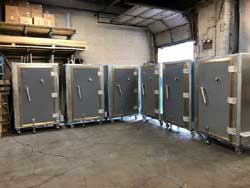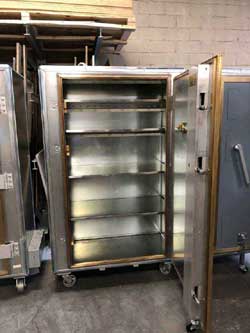 Shown with Door Opening Supports and Removable Locking Swivel Casters (No Dolly)
USC manufactures an entire series of prefabricated cabinets developed from the USC-26 and USC-44 designs. These cabinets are offered with the RCM-154 or RCM-254 door design, thus providing the unit with extraordinary shielding attenuation.
The cabinets can be customized to any size requirements, and can be placed on desks or workbenches.
Welded cabinets are also available. If large mobile cabinets are required, movable platforms can be provided.
Each cabinet can be installed with RF accessories including:
RF Waveguide Air Vents
Ceiling or Side Mounted Exhaust Fans
Microwave or RF Absorber
RF Removable Connector Panels
RF Waveguide Feedthrus
RF Pipe Penetrations
LED Lighting
Workbenches
RF Power, Signal, Telephone, and Data Filters
Locking Wheeled Dollies
Each cabinet is assembled in our facility and tested according to the customers requirements
Prior to shipping
Shipped Fully Assembled
Full Turnkey Solutions
Full Line of Options
Transportation Limits (Maximum Size)
(Length to 10.5', Width to 8.0', Height to 8.5')
Minimum Size: 24"L x 24"W x 24" H
For Smaller Sizes (Click Here)