Diamond Engineering was founded in 1989 in the Sierra Nevada foothills by Michael Hillbun as a microwave R&D lab providing RF system design, prototyping, and evaluation services. Since then, we have advanced to offer measurement and automation hardware, software, and design services for the RF and wireless industry. We develop everything from standard measurement products to complete engineered solutions. We routinely work with major corporations, universities and government agencies around the world to help them meet their RF and microwave testing needs.
Do you have special requirements or a custom project in mind?
Let us know and one of our engineers will work directly with you on a solution exclusive to your needs.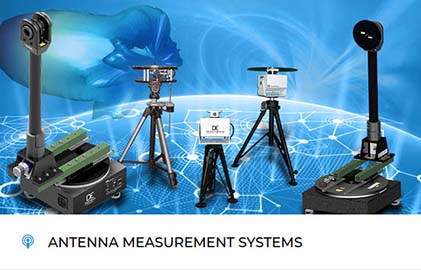 Diamond Engineering D6050 2-axis 25lbs (11.5kg)

ANTENNA MEASUREMENT SYSTEMS & PRODUCTS


Diamond Engineering D6050 Series

The D6050 Series is a highly versatile multi-axis antenna measurement system suited for devices up to 25 pounds (11.5 kg). The non-metallic, belt-driven head provides a low-reflection environment ideal for electrically small or omni-directional antennas.

Key Features and Functions

• 2D & 3D Spherical Measurements (AZ over EL, EL over AZ, XYZ planes and more)

• Far Field Parameters (gain, beamwidth, efficiency, directivity, polarization, isolation, and more)

• OTA Measurements (TRP/TIS)

• Phase Center Measurements

• Spherical Near Field (optional)

Highlights

• Dual rotary joints

• Multiple configuration options

• Indexable mast offset up to 23" from center

• Non-metallic DUT mounting axis

• Ultra-high precision (up to 0.02Ί)

• Ideal for most antennas up to 25 pounds

What's Included?

The standard D6050 package features:

2-axis positioner

DAMS Antenna Measurement Studio

Precision RF cables

Precision dual rotary joints

DUT mounting hardware

Tools and documentation

3-year warranty

---

Specifications

Dimensions

| | |
| --- | --- |
| Footprint: | 24" x 24" (609 mm x 609 mm) |
| Total Height: | 61.475" (1561.4 mm) |
| Clearance Radius: | 35" (1320 mm) surrounding clearance required for full 360Ί rotation |
| Total Weight: | 99 lbs (44.9 kg) |

Positioner

Turntable

| | |
| --- | --- |
| Frequency Ranges (GHz): | Coax: DC to 6, 18, 40, 50, or 67 GHz |
| | mmW: 50-75 (V-Band), 60-90 (E-Band) or 75-110 (W-Band) GHz |
| Resolution: | 0.02Ί |
| Drivetrain: | Precision worm gear table with 1.8Ί stepper motor |
| Gear Ratio: | 90:1 |
| Movement Range: | 0-360Ί or ± 180Ί (re-indexable hardware limits) |
| Slip Ring: | 12-channel slip ring (standard, other options available) |
| Position Feedback: | Optional encoder (default open loop, position tracked by software) |
| Weight (positioner only): | 76 lbs (34.5 kg) with slide railsils) |
| Positioner Max Speed: | 4 RPM (24Ί per second) |
| AUT Mounting Options: Ή | 24" (610 mm) diameter acrylic plate, 0.750" thick, 1/4"-20 hole array |
| | (M6 hole array available upon request) |
| Through-bore Diameter: | Standard: 1.4" (35.5 mm) |
| | mmW: 3.25" (82.5 mm) |
| Weight Capacity: | Centered: 150 lbs (45.5 kg); distributed: 250 lbs (113.6 kg) |
| RF Rotary Joint: | Precision (SMA, 2.92 mm, 2.4 mm, 1.85 mm or waveguide) |

Roll / Phi Axis

| | |
| --- | --- |
| Frequency Ranges: | Coax: DC to 6, 18, 40, 50, or 67 GHz |
| | mmW: 50-75 (V-Band), 60-90 (E-Band) or 75-110 (W-Band) GHz |
| Resolution: | 0.05Ί |
| Drivetrain: | Belt driven with 1.8Ί stepper motor |
| Gear Ratio: | 36:1 with precision planetary reducer |
| Movement Range: | 360Ί continuous or ± 180Ί |
| Positioner Max Speed: | 4 RPM (24Ί per second) |
| Position Feedback: | Optional encoder (default open loop, position tracked by software) |
| Weight (mast only): | 22 lbs (10 kg) |
| AUT Mounting Options: Ή | 4.5" (115 mm) diameter PVC mounting plate with 10-32 hole array |
| | (Larger plate and/or M5 hole array available upon request) |
| Through-bore Diameter: | 1.75" (44.5 mm) |
| Weight Capacity: | 25 lbs (11.4 kg) |
| Axial Moment Capacity: | 20 ft-lbs (27 Nm, 2.75 m-kg) |
| Lateral Moment Capacity: | 10 ft-lbs (13.5 Nm, 1.35 m-kg) |
| RF Rotary Joint: | Precision (SMA, 2.92 mm, 2.4 mm, 1.85 mm or waveguide) |

Custom mounting solutions available upon request

Z-Axis

| | |
| --- | --- |
| Movement travel: | Up to 11" (279.5 mm) |
| Drive Type: | Precision ground C7 steel ball-screw |
| Motor: | NEMA 17 stepper motor (with manual control knob) |
| Max speed: | 4 in/s (100 mm/s) |
| Movement resolution: | 0.008" (0.2 mm) |
| Minimum travel: | 0.008" (0.2 mm) |
| Position feedback: | None (default open loop, position tracked by software) |

Electrical & Communications

| | |
| --- | --- |
| Controller type: | Internal 3-axis microprocessor-based controller |
| Resolution: | Up to 1/32nd microstepping |
| Motor current: | 3.125A per motor phase |
| Cooling: | 24V fan |
| Communication interface: | 9-pin D-Sub RS-232 (USB-to-Serial adapter included) |
| Included cable length: | 10 feet (3 meters) |
| Input voltage: | 24VDC 5A – 2.5 mm DC barrel connector |
| Power supply: | 24VDC 5A, 110V / 220V input (included) |

Models

Unless otherwise specified, all standard model packages include the positioner, software, all RF components, AUT mounting hardware, and tools and documentation.

| | |
| --- | --- |
| D6050-00 | No RF Components |
| D6050-06 | 6 GHz SMA RF Components |
| D6050-18 | 18 GHz SMA RF Components |
| D6050-40 | 40 GHz 2.92 mm RF Components |
| D6050-50 | 50 GHz 2.4 mm RF Components |
| D6050-67 | 67 GHz 1.85 mm RF Components |
| D6050-75 | 50 to 75 GHz mmW V-Band RF Components |
| D6050-90 | 60 to 90 GHz mmW E-Band RF Components |
| D6050-110 | 75 to 110 GHz mmW W-Band RF Components |
| D6050-MMW-CFX | No RF components; configured with mounts for Copper Mountain FX series mmW adapters (up to 110 GHz) |

Options

| | |
| --- | --- |
| OPT-SR | 12-channel slip ring (for unlimited 360Ί rotations) |
| OPT-WGDH | Worm-gear driven head |
| OPT-AZ | Automated linear Z-axis |
| OPT-AZXY | Automated linear Z- and X-axis with pseudo Y-axis |
| OPT-ENC | Encoder feedback capability |
| DPA-PDK | DAMS Platform Development Kit |
| OPT-SMA | Software maintenance agreement |

Accessories

| | |
| --- | --- |
| DEPC-D | Pre-configured PC (desktop) |
| DEPC-L | Pre-configured PC (laptop) |
| DE-SIM | DAMS Antenna & Network Simulator software add-on |
| DPA-SW-N2F | Spherical nearfield processing |
| DPA-AUTOPOL | 18 GHz SPDT RF switch auto-polarizer with cables/adapters |
| DPA-AUTOPOL-40 | 40 GHz SPDT RF switch auto-polarizer with cables/adapters |
| DE-05xx | Broadband reference horn 500 MHz to 18, 26, 30 or 40 GHz |
| DE-07xx | Broadband reference horn 700 MHz to 18, 26, 30 or 40 GHz |

---

Product documents

Diamond Engineering D6050 Series Multi Axis Positioner Data Sheet

Diamond Engineering D6050 Series Installation and Configuration Guide

DAMS Software Suite Users Manual and Setup Guide

Diamond Engineering DAMS Antenna Measurement Systems Guide

Part Drawings

Diamond Engineering D6050 24″ Turntable (SAE, standard) Diagram

Diamond Engineering D6050 24″ Turntable (Metric) Diagram

Diamond Engineering D6025 & D6050 Series 10″ Roll Plate Diagram
Diamond Engineering D6025 2-axis 25lbs (11.5kg)

ANTENNA MEASUREMENT SYSTEMS & PRODUCTS


Engineering D6025

The D6025 Series is a highly versatile multi-axis antenna measurement system suited for devices up to 25 pounds (11.5 kg). The non-metallic, belt-driven head provides a low-reflection environment ideal for electrically small or omni-directional antennas.

Key Features and Functions

• 2D & 3D Spherical Measurements (AZ over EL, EL over AZ, XYZ planes and more)

• Far Field Parameters (gain, beamwidth, efficiency, directivity, polarization, isolation, and more)

• OTA Measurements (TRP/TIS)

• Phase Center Measurements

• Spherical Near Field (optional)

Highlights

• Dual rotary joints

• Multiple configuration options

• Indexable mast offset up to 17" from center

• Non-metallic DUT mounting axis

• Ultra-high precision (up to 0.02Ί)

• Ideal for most antennas up to 25 pounds

What's Included?

The standard D6025 package features a 2-axis positioner, our powerful DAMS Antenna Measurement Studio, precision RF cables and rotary joints, all tools and documentation, plus DUT mounting hardware.

Everything is backed by 3-year warranty.

---

Specifications
Dimensions

Footprint:
18" x 18" (457 mm x 457 mm)
Total Height:
60.2″ (1529 mm)
Clearance Radius:
With wheels: 45" (1150 mm) maximum recommended extension
Secured: 60″ (1524 mm)
(surrounding clearance required for unimpeded 360Ί rotation)
Total Weight:
99 lbs (44.9 kg)

Positioner

Turntable

| | |
| --- | --- |
| Frequency Ranges (GHz): | Coax: DC to 6, 18, 40, 50, or 67 GHz |
| | mmW: 50-75 (V-Band), 60-90 (E-Band) or 75-110 (W-Band) GHz |
| Resolution: | 0.02Ί |
| Drivetrain: | Precision worm gear table with 1.8Ί stepper motor |
| Gear Ratio: | 72:1 |
| Movement Range: | 0-360Ί or ± 180Ί (re-indexable hardware limits) |
| Slip Ring: | Optional 12-channel slip ring |
| Position Feedback: | Optional encoder (default open loop, position tracked by software) |
| Weight (positioner only): | 40 lbs (18 kg, with slide rails) |
| Positioner Max Speed: | 4 RPM (24Ί per second) |
| AUT Mounting Options: Ή | 18" (460 mm) diameter acrylic plate, 0.750" thick, 1/4"-20 hole array |
| | (M6 hole array available upon request) |
| Through-bore Diameter: | Standard: 1.4" (35.5 mm) |
| | mmW: 3.25" (82.5 mm) |
| Weight Capacity: | Centered: 75 lbs (34 kg); distributed: 100 lbs (45.4 kg) |
| RF Rotary Joint: | Precision (SMA, 2.92 mm, 2.4 mm, 1.85 mm or waveguide) |

Roll / Phi Axis

| | |
| --- | --- |
| Frequency Ranges: | Coax: DC to 6, 18, 40, 50, or 67 GHz |
| | mmW: 50-75 (V-Band), 60-90 (E-Band) or 75-110 (W-Band) GHz |
| Resolution: | 0.05Ί |
| Drivetrain: | Belt driven with 1.8Ί stepper motor |
| Gear Ratio: | 36:1 with precision planetary reducer |
| Movement Range: | 360Ί continuous or ± 180Ί |
| Positioner Max Speed: | 4 RPM (24Ί per second) |
| Position Feedback: | Optional encoder (default open loop, position tracked by software) |
| Weight (mast only): | 22 lbs (10 kg) |
| AUT Mounting Options: Ή | 4.5" (115 mm) diameter PVC mounting plate with 10-32 hole array |
| | (Larger plate and/or M5 hole array available upon request) |
| Through-bore Diameter: | 1.75" (44.5 mm) |
| Weight Capacity: | 25 lbs (11.4 kg) |
| Axial Moment Capacity: | 20 ft-lbs (27 Nm, 2.75 m-kg) |
| Lateral Moment Capacity: | 10 ft-lbs (13.5 Nm, 1.35 m-kg) |
| RF Rotary Joint: | Precision (SMA, 2.92 mm, 2.4 mm, 1.85 mm or waveguide) |

Custom mounting solutions available upon request

Electrical & Communications

| | |
| --- | --- |
| Controller type: | Internal 3-axis microprocessor-based controller |
| Resolution: | Up to 1/32nd microstepping |
| Motor current: | 3.125A per motor phase |
| Cooling: | 24V fan |
| Communication interface: | 9-pin D-Sub RS-232 (USB-to-Serial adapter included) |
| Included cable length: | 10 feet (3 meters) |
| Input voltage: | 24VDC 5A – 2.5 mm DC barrel connector |
| Power supply: | 24VDC 5A, 110V / 220V input (included) |

Models

Unless otherwise specified, all standard model packages include the positioner, software, all RF components, AUT mounting hardware, and tools and documentation.

| | |
| --- | --- |
| D6025-00 | No RF Components |
| D6025-06 | 6 GHz SMA RF Components |
| D6025-18 | 18 GHz SMA RF Components |
| D6025-40 | 40 GHz 2.92 mm RF Components |
| D6025-50 | 50 GHz 2.4 mm RF Components |
| D6025-67 | 67 GHz 1.85 mm RF Components |
| D6025-75 | 50 to 75 GHz mmW V-Band RF Components |
| D6025-90 | 60 to 90 GHz mmW E-Band RF Components |
| D6025-110 | 75 to 110 GHz mmW W-Band RF Components |
| D6025-MMW-CFX | No RF components; configured with mounts for Copper Mountain FX series mmW adapters (up to 110 GHz) |

Options

| | |
| --- | --- |
| OPT-SR | 12-channel slip ring (for unlimited 360Ί rotations) |
| OPT-WGDH | Worm-gear driven head |
| OPT-AZ | Automated linear Z-axis |
| OPT-AZXY | Automated linear Z- and X-axis with pseudo Y-axis |
| OPT-ENC | Encoder feedback capability |
| DPA-PDK | DAMS Platform Development Kit |
| OPT-SMA | Software maintenance agreement |

Accessories

| | |
| --- | --- |
| DEPC-D | Pre-configured PC (desktop) |
| DEPC-L | Pre-configured PC (laptop) |
| DE-SIM | DAMS Antenna & Network Simulator software add-on |
| DPA-SW-N2F | Spherical nearfield processing |
| DPA-AUTOPOL | 18 GHz SPDT RF switch auto-polarizer with cables/adapters |
| DPA-AUTOPOL-40 | 40 GHz SPDT RF switch auto-polarizer with cables/adapters |
| DE-05xx | Broadband reference horn 500 MHz to 18, 26, 30 or 40 GHz |
| DE-07xx | Broadband reference horn 700 MHz to 18, 26, 30 or 40 GHz |

---

Product documents

Diamond Engineering D6025 Series Multi Axis Positioner Data Sheet

Diamond Engineering D6025 Series Installation and Configuration Guide

DAMS Software Suite Users Manual and Setup Guide

Diamond Engineering DAMS Antenna Measurement Systems Guide

Part Drawings

Diamond Engineering D6025 18″ Turntable (SAE, standard) Diagram

Diamond Engineering D6025 & D6050 Series 10″ Roll Plate Diagram
DAMS 5000/6000/7000 2-axis 10lbs (4.5kg) or 20lbs (9kg)

Diamond Engineering DAMS 5000/6000/7000


The DAMS x000 (5000/6000/7000) Series is a highly versatile multi-axis antenna measurement system suited for devices up to 10 pounds (4.5 kg) for DAMS 5000, or 20 pounds (9 kg) for DAMS 6000 or 7000. The non-metallic, belt-driven head provides a low-reflection environment ideal for electrically small or omni-directional antennas.

Key Features and Functions

• 2D & 3D Measurements (DAMS 5000 will perform partial 3D without Pro software upgrade)

• Far Field Parameters (gain, beam width, efficiency, directivity, polarization, isolation, and more)

• OTA Measurements (TRP/TIS)

• Phase Center Measurements

• Spherical Near Field (optional)

Highlights

• Dual-axis movement

• Precision rotary joint

• Extremely high resolution (up to 0.0625Ί steps azimuth and 0.10Ί steps elevation)

• 20 pound weight capacity

• Complete 1+ year warranty (model dependent)

What's Included?

• The standard D6050 package features:

• 2-axis positioner

• DAMS Antenna Measurement Studio

• Precision RF cables

• Precision dual rotary joints

• DUT mounting hardware

• Tools and documentation

• 1-year warranty (model dependent)

---

Positioner Operating Specifications

| | |
| --- | --- |
| Frequency Ranges: | DC to 6 GHz (DAMS 5000) |
| | DC to 18 GHz (DAMS 6000) |
| | DC to 40 GHz (DAMS 7000) |
| Platform Movement: | Horizontal 1.8 degree precision stepper motor with low-noise belts |
| | Up to 0.125Ί azimuth resolution (DAMS 5000) |
| | Up to 0.0625Ί azimuth resolution (DAMS 6000/7000) |
| | 360Ί continuous azimuth range |
| | ± 45Ί elevation range at 0.10Ί per step |
| | Vertical precision hybrid linear actuator |
| Platform Max Speed: | 30 R.P.M. azimuth |
| | 120Ί per minute elevation |
| Platform Mounting: | Velbon tripod with fluid pan head |
| | Standard 1/4″-20 tripod threads (horizontal or vertical) |
| Weight Capacity: | 20 lbs. maximum @ level position (capacity decreases with angle) |
| Drive train: | Azimuth: stepper motor with belt transmission |
| | Elevation: stepper hybrid non-captive lead screw |
| Cable Interface: | Ultra-high quality cable with SMA connectors (all "K" connectors on model 7000) |
| | Ultra-precision, ultra-low noise rotary joint with SMA (female) |
| Special Options(*): | Acrylic thrust plate (additional cost for aluminum) |
| | Digital level for precise setup |
| | Ultra-high resolution option |
| | Positioning laser for long range alignment |
| | Vertical alignment tool |
| | DAMS Software Studio Pro |
| | Advanced processing module |
| | Technical support (all systems) |
| Warranty: | 1-year on parts and labor (DAMS 5000) |
| | 3-year on parts and labor (DAMS 6000/7000) |

(*) = included with DAMS 6000/7000 models

Controller Operating Specifications

| | |
| --- | --- |
| Control Methods: | DAMS Antenna Measurement Software |
| | Customer written software with serial communication (requires Platform Development Kit) |
| Interface: | Hybrid USB/serial |
| Input Power: | 24V 1.6A switched power supply |
| Analyzer Interface: | GPIB controller card (not included) |

Physical Properties

| | |
| --- | --- |
| Width: | 12" (30.5 cm) without tripod |
| Height: | 5" (12.5 cm) turntable only |
| | Min: 35" (88.9 cm) with vertical movement assembly and tripod |
| | Max: 72" (182.88 cm) with vertical movement assembly and tripod |
| Weight: | 5 lbs. (2.2 kg) (without tripod and vertical assembly) |
| | 9 lbs. (4.1 kg) (with tripod and vertical assembly) |
| Positioner Composition: | Acrylic 87% |
| | Stainless steel 5% |
| | Aluminum 5% |
| | Misc. plastics/metals 3% |
| Tripod Composition: | Aluminum and plastic |

Environmental Specifications

| | |
| --- | --- |
| Operating Temp: | 0Ί C to 45Ί C (32Ί F to 104Ί F) (with no condensation) |
| Transport Temp: | -40Ί C to 60Ί C (-40Ί F to 140Ί F) (no condensation within 72 hours) |

Models

Unless otherwise specified, all standard model packages include the positioner, software, all RF components, AUT mounting hardware, and tools and documentation.

| | |
| --- | --- |
| Model | Frequency Range |
| DAMS 5000 | DC to 6 GHz |
| DAMS 6000 | DC to 18 GHz |
| DAMS 7000 | DC to 40 GHz |

Options

DFSM5-xx
Full Spherical Mount (5 pound capacity)
(xx = available ranges from DC to 18, 40 or 50 GHz)
DFSM10-xx
Full Spherical Mount (10 pound capacity)
(xx = available ranges from DC to 18, 40 or 50 GHz)
DFSM25-xx
Full Spherical Mount (25 pound capacity)
(xx = available ranges from DC to 18, 40 or 50 GHz)
DPA-LASERTOOL-B
Laser alignment tool
DPA-DIGILEVEL
Digital level
PT-DMS-THRUSTP-ACR
Larger thrust plate
(12″ acrylic, 0.350″ thick)
PT-DMS-THRUSTP-ALM
Larger thrust plate
(12″ aluminum, 0.25″ thick)
OPT-ENC
Encoder feedback capability
DPA-PDK
DAMS Platform Development Kit
OPT-SMA
Software maintenance agreement

Accessories

| | |
| --- | --- |
| DEPC-D | Pre-configured PC (desktop) |
| DEPC-L | Pre-configured PC (laptop) |
| DE-SIM | DAMS Antenna & Network Simulator software add-on |
| DPA-SW-N2F | Spherical near field processing |
| DPA-AUTOPOL | 18 GHz SPDT RF switch auto-polarizer with cables/adapters |
| DPA-AUTOPOL-40 | 40 GHz SPDT RF switch auto-polarizer with cables/adapters |
| DE-05xx | Broadband reference horn 500 MHz to 18, 26, 30 or 40 GHz |
| DE-07xx | Broadband reference horn 700 MHz to 18, 26, 30 or 40 GHz |

---

Product documents

Diamond Engineering DAMS 5000, 6000, 7000 Data Sheet

DAMS Software Suite Users Manual and Setup Guide

Diamond Engineering DAMS Antenna Measurement Systems Guide
Diamond Engineering DC402 Compact 2-axis 40lbs (18.15kg)

Diamond Engineering DC402 Compact Positioner Series


The DC402 is a compact positioner using both worm and belt drive components to offer high precision with low reflectivity for loads up to 40 pounds. This positioner is specifically designed for compact test ranges and enclosures for testing 5G, mmW and radar components and assemblies.

Key Features and Functions

• 2D & 3D Spherical Measurements (AZ over EL, EL over AZ, XYZ planes and more)

• Far Field Parameters (gain, beamwidth, efficiency, directivity, polarization, isolation, and more)

• OTA Measurements (TRP/TIS)

• Phase Center Measurements

• Spherical Near Field (optional)

Highlights

• Dual rotary joints

• Multiple configuration options

• Indexable mast offset up to 17" from center

• Non-metallic DUT mounting axis

• Ultra-high precision (up to 0.02Ί)

• Ideal for most antennas up to 25 pounds

What's Included?

The standard D6050 package features:

• 2-axis positioner

• DAMS Antenna Measurement Studio

• Precision RF cables

• Precision dual rotary joints

• DUT mounting hardware

• Tools and documentation

• 3-year warranty

---

SPECIFICATIONS

Gerneral

| | |
| --- | --- |
| Footprint: | 12" x 12" (304 mm x 304 mm) |
| Total Height: | 22.5" (571.5 mm) |
| Clearance Radius: | 18" (914 mm) clearance radius required for full 360Ί rotation |
| Total Weight: | 42 lbs (19 kg) |

Positioner

Turntable

| | |
| --- | --- |
| Frequency Ranges (GHz): | Coax: DC to 6, 18, 40, 50, or 67 GHz |
| | mmW: 50-75 (V-Band), 60-90 (E-Band) or 75-110 (W-Band) GHz |
| Resolution: | 0.02Ί full step |
| | 0.00125Ί microstep |
| Drivetrain: | 3.0A/phase bipolar stepper motor with worm drive |
| Holding Torque: | 25 ft-lb |
| Movement Range: | 360Ί continuous or indexed |
| Position Feedback: | 800-line encoder |
| Limits: | Home & Limit (hardware & software) |
| Weight (positioner only): | 16 lbs (7.27 kg) |
| Positioner Max Speed: | 24Ί per second |
| AUT Mounting Options: Ή | 3/8"-16 or M6 4-hole pattern for general mounting |
| Composition: | Acrylic turntable with aluminum base |
| Weight Capacity: | 100 lbs (45 kg) |
| RF Rotary Joint: | Optional (SMA, 2.92 mm, 2.4 mm, 1.85 mm or waveguide) |

Gimbal (phi)

| | |
| --- | --- |
| Frequency Ranges: | Coax: DC to 6, 18, 40, 50, or 67 GHz |
| | mmW: 50-75 (V-Band), 60-90 (E-Band) or 75-110 (W-Band) GHz |
| Resolution: | 0.05Ί full step |
| | 0.00250Ί microstep |
| Drivetrain: | 2.0A/phase bipolar stepper motor with belt drive |
| Holding Torque: | 20 ft-lb |
| Movement Range: | 360Ί continuous or indexed |
| Position Feedback: | 800-line Encoder |
| Limits: | Home (hardware & software) |
| Weight (gimbal only): | 26 lbs (11.7 kg) |
| Gimbal Max Speed: | 24Ί per second |
| AUT Mounting Options: Ή | 3.625" (92 mm) diameter PVC mounting plate with 10-32 hole array |
| Composition: | Delrin, ABS, PLA+, fiberglass |
| Weight Capacity: | 40 lbs (18 kg) |
| RF Rotary Joint: | Optional (SMA, 2.92 mm, 2.4 mm, 1.85 mm or waveguide) |

Electrical & Communications

| | |
| --- | --- |
| Controller type: | 3 axis microprocessor based controller |
| Resolution: | Full step through 1/32 microstep |
| Motor Current: | 3.125A per motor phase max |
| Cooling: | Dual 40mm 24V fans |
| Motor Connector: | M12 axial 5-pin connector + 5-pin encoder connector |
| Communication Interface: | DB9 RS232 serial port with external USB adapter |
| Communication cable length: | 1 meter |
| Input Voltage: | 24VDC 3A |
| Power Supply (included): | 24VDC 5A – 110/220v input |
| Motor cable length: | 1 meter |

Models

Unless otherwise specified, all standard model packages include the positioner, software, all RF components, AUT mounting hardware, and tools and documentation.

| | |
| --- | --- |
| DC402-00 | No RF Components |
| DC402-06 | 6 GHz SMA RF Components |
| DC402-18 | 18 GHz SMA RF Components |
| DC402-40 | 40 GHz 2.92 mm RF Components |
| DC402-50 | 50 GHz 2.4 mm RF Components |
| DC402-67 | 67 GHz 1.85 mm RF Components |
| DC402-75 | 50 to 75 GHz mmW V-Band RF Components |
| DC402-90 | 60 to 90 GHz mmW E-Band RF Components |
| DC402-110 | 75 to 110 GHz mmW W-Band RF Components |

Options

| | |
| --- | --- |
| DPA-PDK | DAMS Platform Development Kit |
| OPT-SMA | Software maintenance agreement |

Accessories

| | |
| --- | --- |
| DEPC-D | Pre-configured PC (desktop) |
| DEPC-L | Pre-configured PC (laptop) |
| DE-SIM | DAMS Antenna & Network Simulator software add-on |
| DPA-SW-N2F | Spherical nearfield processing |
| DPA-AUTOPOL | 18 GHz SPDT RF switch auto-polarizer with cables/adapters |
| DPA-AUTOPOL-40 | 40 GHz SPDT RF switch auto-polarizer with cables/adapters |
| DE-05xx | Broadband reference horn 500 MHz to 18, 26, 30 or 40 GHz |
| DE-07xx | Broadband reference horn 700 MHz to 18, 26, 30 or 40 GHz |

---

Product documents

Diamond Engineering DC402 Precision Dual-Axis Compact Positioner Data Sheet

Diamond Engineering DC402 Series Installation and Configuration Guide

DAMS Software Suite Users Manual and Setup Guide

Diamond Engineering DAMS Antenna Measurement Systems Guide
Diamond Engineering DCP252 EL/AZ

Positioner for Radar Module Calibration

Precision Positioners
The DCP252A is a precision 2-axis EL/AZ positioner primarily designed for radar module calibration

The DCP252A is a precision 2-axis EL/AZ positioner primarily designed for radar module calibration. AZ and EL stages are stepper motor-powered worm-gear tables with 0.025 degree native resolution. Each axis has a home sensor which can be used to set pre-calibrated home positions. A high capacity tripod provides stability and increases weight capacity for the positioner.

Key Features and Functions

• 2D & 3D Spherical Measurements (AZ over EL, EL over AZ, XYZ planes and more)

• Far Field Parameters (gain, beamwidth, efficiency, directivity, polarization, isolation, and more)

• OTA Measurements (TRP/TIS)

• Phase Center Measurements

• Spherical Near Field (optional)

Highlights

• Dual rotary joints

• Multiple configuration options

• Ultra-high precision (up to 0.02Ί)

• Ideal for most antennas

What's Included?

The standard D6050 package features:

• 2-axis positioner

• DAMS Antenna Measurement Studio

• Precision RF cables

• Precision dual rotary joints

• DUT mounting hardware

• Tools and documentation

• 3-year warranty

---

Specifications

Gerneral

| | |
| --- | --- |
| Footprint: | 12" x 12" (304 mm x 304 mm) |
| Total Height: | 22.5" (571.5 mm) |
| Clearance Radius: | 18" (914 mm) clearance radius required for full 360Ί rotation |
| Total Weight: | 42 lbs (19 kg) |

Positioner

Turntable

| | |
| --- | --- |
| Frequency Ranges (GHz): | Coax: DC to 6, 18, 40, 50, or 67 GHz |
| | mmW: 50-75 (V-Band), 60-90 (E-Band) or 75-110 (W-Band) GHz |
| Resolution: | 0.02Ί full step |
| | 0.00125Ί microstep |
| Drivetrain: | 3.0A/phase bipolar stepper motor with worm drive |
| Holding Torque: | 25 ft-lb |
| Movement Range: | 360Ί continuous or indexed |
| Position Feedback: | 800-line encoder |
| Limits: | Home & Limit (hardware & software) |
| Weight (positioner only): | 16 lbs (7.27 kg) |
| Positioner Max Speed: | 24Ί per second |
| AUT Mounting Options: Ή | 3/8"-16 or M6 4-hole pattern for general mounting |
| Composition: | Acrylic turntable with aluminum base |
| Weight Capacity: | 100 lbs (45 kg) |
| RF Rotary Joint: | Optional (SMA, 2.92 mm, 2.4 mm, 1.85 mm or waveguide) |

Gimbal (phi)

| | |
| --- | --- |
| Frequency Ranges: | Coax: DC to 6, 18, 40, 50, or 67 GHz |
| | mmW: 50-75 (V-Band), 60-90 (E-Band) or 75-110 (W-Band) GHz |
| Resolution: | 0.05Ί full step |
| | 0.00250Ί microstep |
| Drivetrain: | 2.0A/phase bipolar stepper motor with belt drive |
| Holding Torque: | 20 ft-lb |
| Movement Range: | 360Ί continuous or indexed |
| Position Feedback: | 800-line Encoder |
| Limits: | Home (hardware & software) |
| Weight (gimbal only): | 26 lbs (11.7 kg) |
| Gimbal Max Speed: | 24Ί per second |
| AUT Mounting Options: Ή | 3.625" (92 mm) diameter PVC mounting plate with 10-32 hole array |
| Composition: | Delrin, ABS, PLA+, fiberglass |
| Weight Capacity: | 40 lbs (18 kg) |
| RF Rotary Joint: | Optional (SMA, 2.92 mm, 2.4 mm, 1.85 mm or waveguide) |

Electrical & Communications

| | |
| --- | --- |
| Controller type: | 3 axis microprocessor based controller |
| Resolution: | Full step through 1/32 microstep |
| Motor Current: | 3.125A per motor phase max |
| Cooling: | Dual 40mm 24V fans |
| Motor Connector: | M12 axial 5-pin connector + 5-pin encoder connector |
| Communication Interface: | DB9 RS232 serial port with external USB adapter |
| Communication cable length: | 1 meter |
| Input Voltage: | 24VDC 3A |
| Power Supply (included): | 24VDC 5A – 110/220v input |
| Motor cable length: | 1 meter |

Models

Unless otherwise specified, all standard model packages include the positioner, software, all RF components, AUT mounting hardware, and tools and documentation.

| | |
| --- | --- |
| DCP252A-00 | No RF Components |
| DCP252A-06 | 6 GHz SMA RF Components |
| DCP252A-18 | 18 GHz SMA RF Components |
| DCP252A-40 | 40 GHz 2.92 mm RF Components |
| DCP252A-50 | 50 GHz 2.4 mm RF Components |
| DCP252A-67 | 67 GHz 1.85 mm RF Components |
| DCP252A-75 | 50 to 75 GHz mmW V-Band RF Components |
| DCP252A-90 | 60 to 90 GHz mmW E-Band RF Components |
| DCP252A-110 | 75 to 110 GHz mmW W-Band RF Components |
| DCP252A-MMW-CFX | No RF components; configured with mounts for Copper Mountain FX series mmW adapters (up to 110 GHz) |

Options

| | |
| --- | --- |
| OPT-ENC | Encoder feedback capability |
| DPA-PDK | DAMS Platform Development Kit |
| OPT-SMA | Software maintenance agreement |

Accessories

| | |
| --- | --- |
| DEPC-D | Pre-configured PC (desktop) |
| DEPC-L | Pre-configured PC (laptop) |
| DE-SIM | DAMS Antenna & Network Simulator software add-on |
| DPA-SW-N2F | Spherical nearfield processing |
| DPA-AUTOPOL | 18 GHz SPDT RF switch auto-polarizer with cables/adapters |
| DPA-AUTOPOL-40 | 40 GHz SPDT RF switch auto-polarizer with cables/adapters |
| DE-05xx | Broadband reference horn 500 MHz to 18, 26, 30 or 40 GHz |
| DE-07xx | Broadband reference horn 700 MHz to 18, 26, 30 or 40 GHz |

---

Product documents

Diamond Engineering DCP-252A Seris of Dual-Axis Precision Positioners Data Sheet

Diamond Engineering DCP-252A Series Installation and Configuration Guide

DAMS Software Suite Users Manual and Setup Guide

Diamond Engineering DAMS Antenna Measurement Systems Guide

Part Drawings

DCP252A 12″ Turntable (SAE, standard)

DCP252A Series 4″ x 4.75″ Mounting Plate
Diamond Engineering Reflection-Less Spherical Antenna Mount (RSAM)

FSM-5-18

DC to 18 GHz

FSM-5-40

DC to 40 GHz

10 lb Load Rating

The new Diamond Engineering Full Spherical Mount is now a DAMS platform option that may be added to any DAMS platform. The mount utilizes delrin for ball bearings and structure, plus it enables full spherical measurements to resolutions as low as 0.1 degrees. The mount is ideal for unobstructed gain data and efficiency. The belt driven system is a plug and play substitution to the DAMS elevation motor.

Features include:

Low reflection - 90% delrin construction


DC - 18 GHz or DC - 40 GHz


6-inch horizontal adjustment for centring


12-inch vertical height


0.1 degree movement resolution


5-pound load capacity (option 5)


10-pound load capacity (option 10)


CTIA and general efficiency software


Runs from existing platform elevation plug

System Screenshot