Precision Biconical Antenna

PBA-2030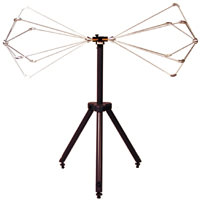 20 MHz - 300 MHz
300 Watts CW

The TDK RF Solutions PBA-2030 Precision Biconical Antenna features a patent pending design that provides optimum performance over the frequency range of 20 MHz to 300 MHz.
Improved balun provides superior patterns and balance

Improved biconical element design (patent pending)

Effective internal choke provides immunity to externally induced imbalance

VSWR: 2.5:1 average

Power Handling: 300 W maximum

Size: 138 cm x 53 cm x 72 cm (L x W x H)

Feed-point Impedance: 50 ohms nominal

Weight: 3 kg

Construction: Painted aluminum

RF Connector: N type female or SC

Warranty: 1 year

High Power Biconical Antenna

HBA-2030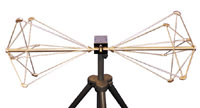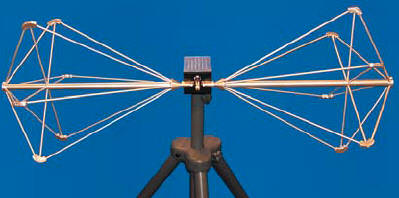 20 MHz - 300 MHz
3,500 Watts CW

The TDK RF Solutions HBA-2030 High Power Biconical Antenna is a new generation biconical dipole that covers the operating frequency range of 20 MHz to 300 MHz. The HBA-2030 offers an unprecedented combination of high power handling, balance, and pattern control, which makes it an excellent choice for immunity measurements.
Improved balun provides superior patterns and balance

Improved cage design provides enhanced low frequency performance and mode-free operation to 300 MHz and higher

Individually calibrated with signed certificate of calibration.

VSWR: 2.5:1 average

Power Handling: 3500 W continuous

Feedpoint Impedance: 50 ohms nominal

Size: 138 cm x 56 cm x 56 cm (56" W x 22" D x 22" H)

Weight: 4 kg (9lbs)

Construction: Aluminum

RF Connector: SC

Warranty: 1 year

Metrology Biconical Antennas
MBA-2060 20 - 600MHz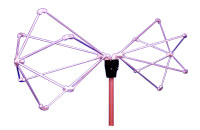 The MBA Series features an improved biconical element and improved balun design, which provides superior patterns and balance. Also, the design of the MBA Series allows the polarization to be changed without moving the phase center. Improved balun provides superior patterns and balance
Effective internal choke provides immunity to externally induced imbalance

Fits common antenna mounts;
EMC Automation mounts are also available

Individually calibrated according to ANSI C63.5 with signed certificate of calibration

VSWR: 2.5:1 average

Polarization: Linear

Feedpoint Impedance: 50 ohms nominal

Size: 75 cm x 27.5 cm x 27.5 cm (L x W x H)

Weight: <1 kg

Construction: Aluminum

RF Connector: SMA or APC 3.5

Warranty: 1 year