Active Receive Antenna
Model: ARA
30MHz - 1GHz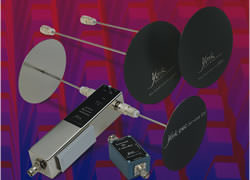 The unit is powered from a single PP3 battery. A green LED indicates that the antenna is active, a red LED indicates that the battery is low and should be recharged or replaced. There is also an external DC option where the DC is supplied via the RF cable.
There are two sets of Dipole Antenna Elements (DAE) which can be used. The unit is supplied with one set as standard (DAE01). For higher sensitivity at the low frequencies DAE02 should be used.
The Active Receive Antenna has been designed as a compact emissions antenna. The small size makes it particularly suitable for use in anechoic chambers, however it can also be used on an Open Area Test Site (OATS).
Specifications
Frequency Range
30MHz (200MHz optimum) to 1GHz using DAE01 100mm long antenna elements
30MHz to 300MHz (optimum) using DAE02 290mm long antenna elements
Output connector
50Ω BNC socket
Output VSWR
1.5:1
Dynamic range
90dB
1dB compression
15.4dBm ≡ 35.5mW ≡ 1.33V (in a 50Ω system)
Antenna factor
See graph below
Temperature stability
5°C to 45°C: <1 dB
Time stability
Typically <1 dB over a 12 month period
Dimensions
34mm × 34mm × 150mm (168mm including connector) excluding dipole elements
Weight
0.39kg (including battery)
Power supply
1 × 9V battery (PP3 or equivalent) or 9V-12V 70mA external power supply with EDC01
Operating time
6.5 hours typical with alkaline cells
Indicators
Power on - green LED
Battery low - red LED