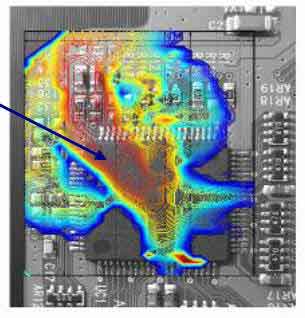 Results of Susceptibility Scan
Dark browns and reds show area of greatest sensitivity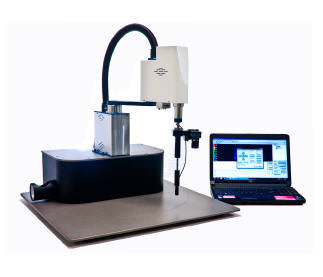 SmartScan 300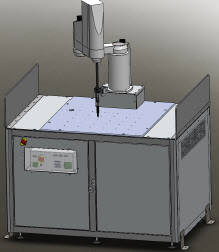 SmartScan 600
The

SmartScan 300/600 series are identify susceptibility problems and includes: 6KV pulse generator for ESD susceptibility testing

Full 3 dimensional scanner table under software control

300 series – 310mm 4-axis scara robot

600 series – 600mm 4-axis scara robot

Automatic failure detection

Fully automated DUT failure detection and power cycle by software control. Any digital or analog signal is monitored in real time

DUT location camera - The scan area is edited directly on the DUT picture taken by the camera. The software figures out the coordinates, and moves the probe to the defined scan points

Probes 1mm and 5mm Hx/y

D=8mm Hz Field Probe

D=8mm Ez Field Probe
Contact API for custom design probes

Available Options

300/600 Series include: EMI Scanning1

Current Spreading Scan

Resonance Scanning

Phase measurement2

Phi3 axis control

On-site installation and training
Contact API for other custom design probes

1 Requires a Spectrum Analyzer

2 Requires an oscilloscope

3 Phi axis control adds the ability to control the probe orientation during scanning for optimal resolution.
Susceptibility scanners use a pulse generator specifically designed to produce a fast rising pulse simulating the E and H fields produced by an ESD (Electrostatic Discharge) event. The pulse is coupled via E and H field probes and either manually or automatically scanned over the surface of a suspect circuit. Once the susceptibility effect is localized, direct injection probes and software analysis can be used to identify specific IC pins or nodes that are the root cause of a susceptibility problem.
A susceptibility test that can be done by both the system manufacturer and the device manufacturer.
· It's a test that can be done by both the system and device manufacturer – and the results are meaningful to both.
· As a preventive measure during design or device selection, it provides the engineer with a tool to see potential problems before a product is put into production.
· For resolving EMC susceptibility problems in a sub-assembly or finished product, it provides a method to quickly see those areas likely to be the root cause of upset or malfunction.
· For the device manufacturer it's an invaluable tool for determining the sensitive of a device – something rarely done in industry today.
Susceptibility testing doesn't replace system level testing to compliance standards or device level testing for voltage withstand during handling. What it will do is provide a tool that can be used by both the system level manufacturer and the semiconductor manufacturer to identify susceptibility problems at every level – device, board, sub-assembly and system.
In addition to identifying a sensitive component or circuit, testing must be able to quantify susceptibility levels and ideally correlate these results with the system level test results. Simply doing a system level test on a device is useless unless susceptibility levels can be determined and quantified.