C-RAM SFC-EM
RF ABSORBER FOR EMC CHAMBERS
TRUNCATED PYRAMIDAL
MIL-STD 461/462G
RTCA-DO-160
EN 1000-4-3


The C-RAM SFC-EM product is similar to standard C-RAM SFC pyramidal grades, but having the tips of the pyramids truncated. This saves space in small chambers and provides a more rugged product, eliminating the possibility of tip breakage.
C-RAM SFC-24 EM meets the requirements for MIL-STD 461/462G
C-RAM SFC-36 EM and C-RAM SFC-24 EM, in an appropriate combination in a chamber, are an ideal absorber treatment for Immunity Test Chambers (EN 1000-4-3 and equivalent specifications).

C-RAM SFC
HIGH PERFORMANCE BROADBAND RF ABSORBER
PYRAMIDAL
120 MHz - 50 GHz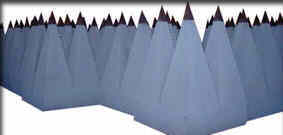 C-RAM SFC is a series of high performance broadband RF absorbers made from specially treated low density polyurethane foam. The product is flexible and tolerant of physical abuse. Using a steep pyramid design which provides an impedance gradient, C-RAM SFC provides premium performance in anechoic chambers at both normal and off-normal incidence angles. These products meet all of the fire retardancy requirements of NRL Specification 8093 tests 1, 2, and 3, MS-8-21 tests 1, 2, and 3, and T.I. drawing 2693066, as well as ASTM E-84-97a, Class A